Battle of Britain Teams – 10/05/2009 – Sheffield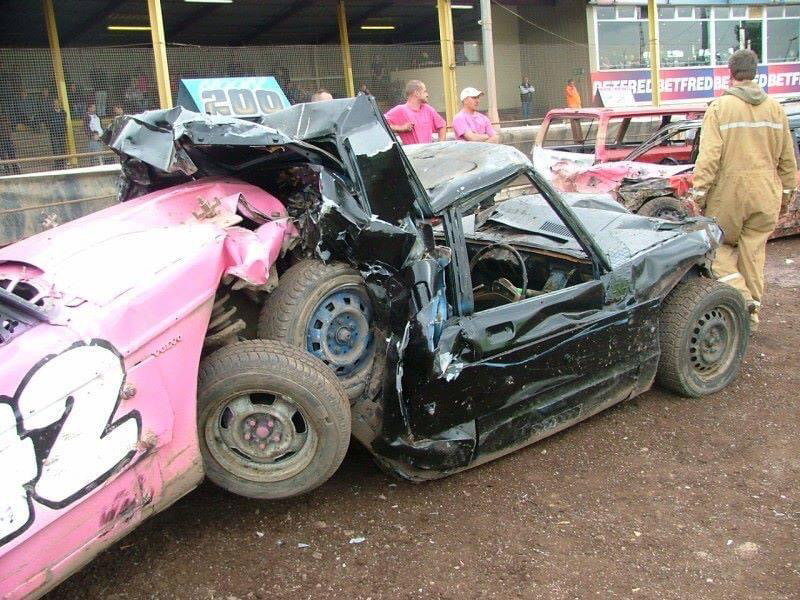 Report by Paul Toward
It seems to me that in banger racing there is a trend that if a meeting is really good one year, the following year will be loaded with hype and more publicity. This often leads to disappointment as the hyped event may not always live up to the standard of the event the previous year. This however was not the case with the 2009 Battle of Britain as it was to be one of the best yet! The meeting saw around about the same amount of cars on track but a much bigger crowd which brought a better atmosphere. The talking point of the day was that the meeting was to be filmed by an outside company and was to be made into a TV programme as well as a nationally sold DVD. The bangers were supported by the Startrax rookie banger formula who also had a team meeting. They provided much action and is a real shame that they do not feature again here today as many fans would have loved an all banger day.
On track we saw the now expected Stinkbridge faction with three teams present. Bad News had returned after their mauling in 2008 with four teams swelled by some East Anglian friends. The Midlands teams the Demons and Scrapyard Screamers returned the former with two teams and the later with just two drivers. Surprisingly we saw a trio of Team Black teams who were tipped to battle all day with the Stinkbridge teams and was very much the talk of the pits before the meeting. Completing the line up were the rising Gravediggers team who were making their Sheffield debut and the two driver Team Small.
The meeting lacked too much material but 501 Steve Kaye did turn out a nice looking Rover P5 which was the top car. Other fresh motors included a Mk2 Granada Limo for 21 Gavin Robinson, an XJS for Gary Beecham and a Datsun 300c for 32 Matt Small. Used wise we saw a Daimler Majestic,Mk1 Granada and an XJ6 Coupe. The rest of the field was generally made up of Volvo's mostly 240's which showed just how favoured they are nowadays for the hard hitting meetings. There was the odd Granada, Omega, Jaguar and Supra though.
Heat 1 started as the meeting left off in 2008 with Bad News on the receiving end as 451 Willy Blackwell ran 282 Bobby Daniels into a post on the back straight. The race then calmed down and saw a few laps of nothing more than spins before the back straight crowd were at the top of their voices again as 132 Chris Cullum gave 450 Glynn Platts a solid head on only to be dealt a savage blitzing from 474 Matty Threlkeld which folded the 132 Volvo nicely. Stinkbridge didn't have it all their own way though as 67 Rickie Beasley planted 51 Simon Heilds into the stricken 282 Daniels Volvo which wrote the Bad News motor off. That didn't stop Simon though as he motored on to blow up 160 Shayn Winsor on turn 2 which made a nice mess of his Granada Estate and ended his day. Meanwhile Crewe legend 55 Graham Smith had been turning cars left and right to take the win ahead of 999 Scott Hill.
Heat 2 started a bit more tamely with a lap or two passing without action before 409 Carlos Pears picked on the limping 617 Jack Overy, Carlos was then blasted by 501 Basher in his P5 which sent the 409 car spinning across the grass. 21 Robbo Jnr who had been going well in his limo made the mistake of trying to spin the flying 318 Wilf Speak which ended with both cars in the fence, the limo majorly snapped right up against a post which ended his day. Just as the flag came out Basher and 230 Dean Mouljord shared a head on, on the home straight to end the action. 570 Jimmy Newson took the win for Bad News.
Heat 3 was an all in event and was probably one of the best races of the year. It started with 451 Blackwell hanging back and attacking the Overy Jag before the pair had even passed the start line. Meanwhile on turns 1 and 2 a pile up was forming thanks to 450 Platts burying the 105 Steve Johnson Volvo amongst others. 681 Tom Dickson arrived with his first big shot of the day with a solid t-bone on the 318 Speak, late Granada Estate, which finally killed the dinosaur motor. The much talked about wrecking train started as 200 Steve Farrell nailed the stuck 450 Platts Jag. This was then avenged with a monstrous blitz from 742 Ian Gregory which put the wheels of the 200 car right up. 579 Beecham was next in with a thunderous hit on the 742 Volvo again putting its wheels in the air. Stinkbridge got revenge in the shape of 407 Jason Whitehead which folded the 579 XJS in an alarming manor. It still hadn't finished as 154 Mike Plant blew up the 407 Volvo and this was then followed by 112 Darren Prestage planting 91 Eric Newson into the 154 jag before the reds came out to help Beecham out of his slaughtered XJS which was getting shorter and shorter as each hit went in. Elsewhere before the reds Blackwell had t-boned 807 Chris Murfin with a savage shot. As the race restarted you would have been forgiven for thinking it would be a tame few laps to the flag, however you would have been wrong as 180 Mark Foster picked up and followed in 313 John Cullingford with 11 Prestage and 222 Matt Logan also pushing causing airtime for the Foster and Cully Volvo's and ending with the 180 car on its side bringing out the reds again. This time the restart was tame as 55 Smiggy took his second win of the day followed home again by 999 Hill.
Heat 4 was again an all in race and was again a lively affair. It started on the home straight as 474 Matty was spun out of it and into the ropes before being collected with a huge head on from 18 Ian Webb who had 384 John Golden pushing. Onto turn 1 and 681 Dickson nailed 180 Sparky after Sparky had put 409 Carlos up a post. Team small continued their hits with 32 Matt blowing up a recovering 21 Jason Colbert. Meanwhile on turns 3 and 4 we saw a pile form with 998 Wayne Cotterill starting by following in 804 Ben Small followed by Platts embedding himself in the 998 Jag. 230 Dean Moljourd used the Majestic to nail Platts but had it destroyed by a big t-bone from 51 Simon Heilds. 114 Adam Jackson was then launched into a complete rollover by 32 Small and in avoiding the rolling car Small had no choice but to t-bone the Moljourd Majestic, re-shaping it further. 32 Small was then blasted by the leading 67 Beasley who took some damage from the hit and slowed considerably from that point. Things then went quiet for a lap or two until 321 Andy Newton spun out Blackwell who then copped a huge t-bone from the revenge seeking Overy. Overy backed off and rejoined behind leading team mate Smiggy who spun out 222 Logan in much the same spot for Overy to home in with an even fiercer t-bone shot which bannanered the 222 Volvo. Smiggy completed the remaining laps in his rapid Mk2 claiming his 3rd win of the day meaning he'd come home with a 100% record. Scott Hill again being the 2nd man home. Overall this gave the title to Team Black B from the Scrapyard Screamers no doubt both teams achieving this through the above two drivers.
The allcomers event was a scheduled 5 lap dash followed by a DD. The event started with a fleet of pink at the business end of the field until 804 Small was spun out and given a large portion from 321 Newton. From then on it went quiet for a few laps until Sparky who was waiting for the DD got bored of watching and joined in. He came off the grass and met Blackwell in a crunching head on which snapped both Volvo's. An illegal hit but both pilots seemed happy enough with it! When the DD officially got underway it was a shame to report that many of the first hits were on the infield and so I shan't report on them. Finally the action returned to the track and Irish man 146 Davey O'Connor nailed the wounded 804 Small motor on turn 4 which was then avenged as brother Matt gave the 146 car a big shot. 32 Small then continued his lively afternoon with a shot on Carlos on the other bend before both of the Scrapyard Screamers piled into Matty in much the same place. More action was to come on turn 2 as 32 Small weighed in with another shot on the almost expired Carlos Volvo which then killed it. 742 Taz, who had performed miracles to pull his car for the DD, then made it all worth it with a revenge shot on Small. It was to be short lived for Taz though as Hill put the roof back up on the Volvo as it folded like paper having being weakened so much. After a game of cat and mouse if was finally Hill who connected with a shot on 51 Heilds before he was steamed by the still lively 32 Small. Matty then put an end to Small though with 2 meaty shots on consecutive laps on the home straight. Meanwhile Heilds had connected with a shot on hill which has silenced both cars leaving Matty to take the DD win and end a very lively day, one of the meetings of 2009.